Kids' Parties: Three Things to Avoid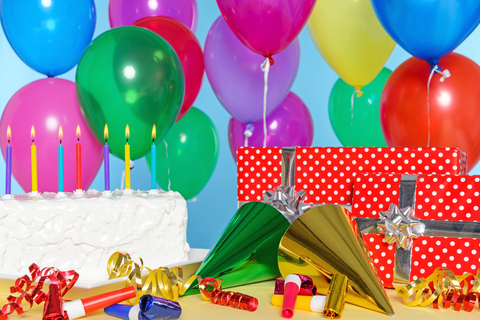 When planning a children's party though, you need to be mindful of things to avoid, as well as things to include. Ensuring you don't waste money on tatty tableware and rubbish party bag fillers is just as important as finding the right cake and inviting the right people.
 
So read on to see three things to avoid when planning a children's party, as well as some suggestions as to how Little Cherry can help.
 
Tacky Trimmings
 
Nobody wants to throw a party where the words "tat" and "tacky" come to mind. Long gone are the days of mass-manufactured foil decorations that hang too low and snap and tear on sight. Cheap plastic banners and decorations are no better, being either poor quality or overpriced, and environmentally unfriendly in both cases.
 
Thanks to Little Cherry though, you don't have to settle for the same old found on shelves and at parties across the country. We have a wide selection of quality partyware that is stylish, durable and eco-friendly. From biodegradable balloons and cotton bunting to paper pompoms and decorative table centrepieces, we have something fun for everyone to enjoy.
 
Whether you need pompom clouds that look like marshmallows or miles and miles of green streamers for a jungle-themed shindig, our party ware will make sure tacky trimmings are a thing of the past for your child's parties.
 
Cheap and Cheerful Plastic Toys
 
If you need something to keep little hands and inquisitive minds busy, or you are wondering what to stock up on in the way of party bag fillers, steer clear from cheap and cheerful plastic toys. They may sound like a bargain when you are scooping them into your shopping basket, but they will prove to be a waste of money and time, in the long run.
 
Not only are cheap plastic toys likely to get cast aside moments after being handed out, but they also pose health risks (from chemicals and choking hazards), and their production is not good for the planet. For longer-lasting entertainment and a more positive impact on the environment, opt for sturdier toys made from sustainable materials, like wood.
 
Our party bag fillers are ideal, constructed from quality wood and available in a range of themes. We have pencils, sharpeners, and traditional toys like spinning tops in garden themes, jungle themes, and more. Perfect for boys and girls alike, these affordable and sustainable toys are far better than their cheap and cheerful plastic counterparts.
 
Flimsy Paper Tableware
 
What is a party without food? Well, for kids, it's not a party at all. Party foods are part of the reason children love the idea of birthday bashes and group gatherings in the first place. Miniature pizzas, finger foods, vegetable sticks with lots of fun dips and other yummy finger foods become a central feature of the whole event.
 
As such, making sure little ones have sturdy and safe tableware to accommodate piles of party food is essential.
 
Usually, parents opt for paper tableware decorated in a way that complements the party theme, but as fun as this paper tableware is, it is flimsy. Ketchup, sauces and the inevitable grease on sausage rolls and crisps seep through and turn the plates and bowls soggy, rendering them unfit for purpose.
 
A better alternative would be disposable palm leaf plates and tableware from Little Cherry. Bowls, plates, platters and more, we have whatever you need to feed the tribe, and if you're worried about the theme, we've got that covered too – just use your imagination. Our disposable wooden boats work a treat for pirates, and our coconut shell bowls are ideal for beach themed parties.
 
So keep your kids' parties classy, fun, and eco-friendly by avoiding these three faux pas and taking inspiration from Little Cherry. You can browse our site for more on our products, and read our blog for ideas. Then, the party can begin!
---