Waste Not, Want Not This October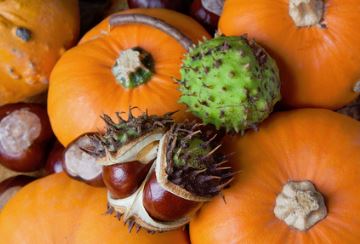 Even when it comes to using up fruit, veg and various foodstuffs, we throw away far more than we need to, wasting the precious supply as well as the money spent on it. In some cases, we even make a conscious decision to buy foods we have only one nominal use for, knowing that we will throw most of it away. And this throwaway culture is no good.
 
Let's look back at October as just one month of many, where throwaway consumer culture is out of control.
 
How often do you buy a crate of pumpkins, ready to carve, only to throw away the good stuff inside? Do you go apple or conker picking for the experience, but end up wasting the fruits and nuts themselves?
 
And what about the paper you use for Halloween decorations or back to school projects? Does it end up in the rubbish, just like the scraps of material left over from your kids' Halloween costumes?
 
Stop!
 
You can reuse, recycle and up-cycle food and miscellaneous items just as well as you do cans and cardboard. In fact, when you have a month like October, where things are bought and wasted in excess, you need to make an extra effort when it comes to being responsible.
 
Read on and see how to enjoy all the things October brings, in a way that means you waste not and want not.
 
Piles of Pumpkins
You've bought a dozen pumpkins for your youngsters to gut and carve, ready for a Jack-o-Lantern display like no other. What do you do with the insides? The likelihood is you throw them away, but there are far better options.
 
If you don't want to use them for cooking, pop them on the compost heap but dry out the seeds for the birds. And if you fancy being adventurous in the kitchen, use what you scoop out for things like pumpkin soup, pumpkin pie and even your own pumpkin patch with replanted seeds. More ideas here. (The same applies to apples; once they've been bobbed for you can make 101 things with them, you can even use the cores!).
 
Fabric Scraps
Whether you fashion some Halloween costumes out of old clothes and craft supplies, or you buy some fabric to start from scratch, you're likely to end up with leftover scraps that end up at the back of a cupboard or in the rubbish bin. And what a waste that is! Some scraps could be used for household chores like polishing, buffing, or cleaning down the bathroom. Others, with a particularly Halloween-y theme, could be turned into bunting for your Halloween Party. And if you really haven't got any use for the scraps yourself, then ask around; maybe someone is in the middle of a patchwork project, or your children could use them for collages and pretend play.
 
Conkers and Fall Foliage
One of the best bits about autumn, and October, in particular, is the crisp walks through golden leaves and conker picking trips. It's a seasonal tradition and one that kids (and adults) of all ages love and look forward to. But other than play conkers with old bootlaces, what on earth do you do with the bags and bags of conkers and dried leaves you collect? Well conkers have some superb uses, from their spider and moth deterrent properties to their excellence as decorative touches (see ideas here). We like the idea of combining the rich brown of conkers with the light tones of our bamboo tableware, to give a really rustic and natural autumnal feel to a room. You can add candles or greenery as you see fit, or you can just use a conker-leaf medley. Either way incorporating conkers into your home design is far better than just heaping them on the compost pile for the sake of it.
 
These are the kinds of things we have in abundance throughout October and the autumn months, but with so much of it used for decorative purposes and one-time things, we waste far more than is necessary. And to keep up with the demand of our consumer culture, more and more throwaway varieties of things are being produced, creating a vicious cycle.
 
So take a stand this October. Seek out ethical, sustainable party supplies like ours and choose your pumpkins wisely so you can use every last bit well. Then continue these good habits all year round!
---