Top 3 Palm Leaf Plate Projects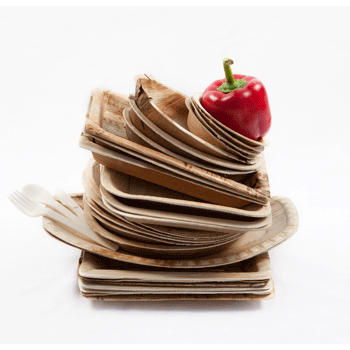 To really make the most of the great products and clever designs available though, you need to find different ways to incorporate these eco-friendly items into your everyday life at home, work and play.
 
That is why we have come up with just three innovative ways to use some of the items in our disposable tableware collection, specifically palm leaf plates. So read on to see how you can use these smart and stylish little plates, not just at parties and picnics, but all day every day too. View here to discover more about our organic range of tableware and cutlery.
 
Table Centrepiece
Traditionally, plates belong on tables. So it makes sense that one of the best ways to utilise a palm leaf plate is to decorate it and incorporate it into a table centrepiece. You can pop potpourri in a palm leaf bowl, place decorative candles or bottles on a plate or tray, or simply paint a decorative motif on the plate to create a simple but effective display piece.
 
Key and Change Holder
The eternal battle of the modern driver is finding where on earth to put their keys. We never lose our keys with hours to spare; it is always when we are running late in the peak of rush hour. In the same vein, we are forever under attack from loose bits of change wedged in pockets or tucked into receipts. Both of these problems can be solved with the addition of a palm leaf bowl or dish on the hallway table, to act as a key or loose change holder.
 
Plate Protection
When storing expensive dishes or transporting crockery, you need to make sure they don't bash up against each other because this will cause cracks, chips and breaks. Newspaper has long been a popular padding option, as have cheap paper plates. For a sturdier (and might we say, more stylish) form of protection though, place palm leaf disposable plates between each breakable plate to keep them separate, absorb impact and reduce the risk of damage.
 
Of course, these three suggestions are just a few of the ideas out there; other ideas include using a palm leaf plate as a temporary soap dish or a rest for sauce-covered wooden cookery spoons. It is even an idea to keep a stash as art supplies.
 
These attractive, durable and versatile plates are true all-rounders, and you may be surprised by just how many different uses they have in the home.
 
You can look for inspiration online, or just take a look around your home with an open and creative mind. You are bound to spot little gaps to fill or areas in need of makeshift solutions. Perhaps you will even find yourself wanting to get stuck into a crafting project, and a stash of palm leaf plates will give you all the inspiration and blank canvases you need.
 
However you incorporate this pocket-friendly, planet-friendly and life-proof tableware into your home, you will be more than impressed with the result. So get your pack of disposable palm leaf plates from www.littlecherry.co.uk today.
 
---