Pancake Day: Little Cherry Approved Recipes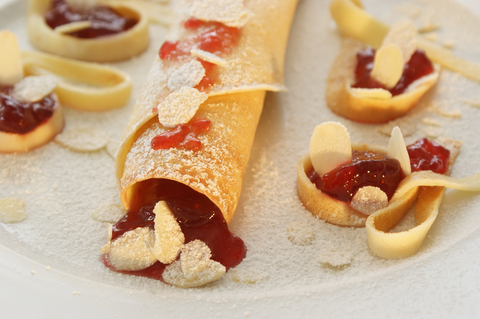 Whether you break out the fine china and make an event of sitting down to enjoy them as a family or you keep things simple with our disposable party plates and cutlery, cooking 'em up is a fun experience in itself.
 
Of course, you can make life easy for yourself by popping to the shop and buying ready-made pancakes. At the very least, you could find some pre-prepped batter, ready for pouring. You could even nip to a restaurant and conveniently pick your pancake from the menu. Yes, there are many ways to enjoy Pancake Day if you are on a tight schedule.
 
For the occasion to be enjoyed to its fullest through, you want to start from scratch. Making yourself a stack of delicious pancakes is easy enough to do, as is coming up with and trying out your own recipes. All you need is the right batch of ingredients (try and aim for Fairtrade and organic options if you can) and some culinary imagination.
 
To give you a head start, here are some pancake ideas that have Little Cherry's official seal of approval. We'll begin with a basic batter recipe before moving onto ideas for dishes to suit every taste.
 
The Basic Batter
 
For thicker, American-style pancakes:
2 x cups all-purpose flour
2 ½ x tsp baking powder
3 x tbsps. granulated sugar
½ x tsp salt
2 x large eggs
1 ½ x cups milk
2 x tbsps. melted butter
The recipe (with a prep time of 10 minutes and a cooking time of 20 minutes) can be found here.
 
For the classic British crepe:
4 x ounces plain flour
1 x pinch of salt
2 x eggs
7 x fl oz milk mixed with 3 fl oz water
2 x ounces butter
This simple recipe is available at BBC Food, and it can yield around 12 to 14 pancakes.
 
The Sweet Treat
 
What kind of sweet treat pancake filling you choose will depend on what kind of sweet tooth you have. You might want to pile on lots of chocolate chips, fudge chunks and chocolate buttons, with caramel or chocolate sauce drizzled on top. Alternatively, you might want a Strawberry Shortcake style pancake, with freshly chopped strawberries, whipped cream and strawberry compote or crushed shortbread to top it off.
 
The Savoury Snack
 
We love our all-day breakfasts in the UK, and that should extend to our pancake choices. Try a stack of chunky pancakes with scrambled egg or bacon (why not both!). For an All-American twist, you can even douse it all in maple syrup.
 
The Classic
 
Sometimes, you have to ask yourself: why fix what isn't broke? This is true of the classic pancake filling, lemon and sugar. You can sprinkle to taste, and the zesty sweetness is just right for setting off the tasty batter. So if you don't feel too adventurous, or if you are pushed for time, enjoy this age-old classic.
 
These three recipes are just the tip of the iceberg when it comes to inspiration for pancake dishes. You can find recipes almost anywhere, from traditional cookery books to blogs and Pinterest.
 
So decide what kind of pancake dish satisfies your taste buds and start stocking up on disposable tableware and quick-and-easy ingredients. That way, when Pancake Day rolls around on 17th February, you can just enjoy the moments and the tasty morsels that come with it! If you would like to learn more about our range of products, then hop over to our webpage and discover such gems like bamboo tableware or gorgeous disposable wooden cutlery!
 
Happy Pancaking!
---