Little Cherry Loves: A Red, Gold and Green Christmas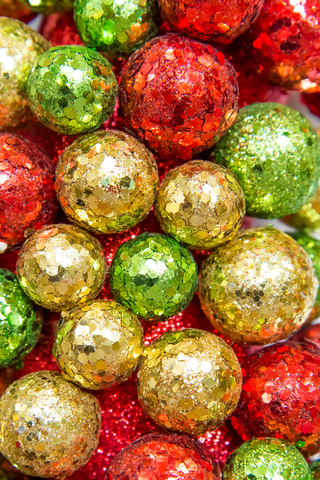 Christmas isn't all about parties and presents though. What really gets us in the swing of it all is being surrounded by all things Christmas; the twinkle of fairy lights, the sparkle of a Christmas tree and the traditional festive palette of bright reds, warm golds and rich greens.
 
Whether you are throwing a cosy family dinner or a party for all your friends, the classic combination of red, gold and green is always a good choice if you want to boost Christmas spirits.
 
This year though, why not take a closer look at the history and meanings of these colours, to better understand how they make a traditional Christmas come alive? Better yet, why not put a twist on the traditional?
 
Instead of sticking with the same old, sorry-looking tinsel and plastic party plates, you can make your Christmas just that little bit greener with www.littlecherry.co.uk.
 
Read on to find out how to get (and why you want) a red, gold and very green Christmas this year.
 
Red:
The use of the colour red at Christmas has its roots in medieval times, when people would decorate pine trees with red apples and winter berries.
 
To use red in your festive decoration this year though, opt for subtle shades or natural forms, like a few sprigs of holly or some poinsettia centerpieces. In fact, using rich, festive red tableware like our lacquered coconut shell bowls is a great way of bringing red into a green Christmas too.
 
Gold:
Associated with all things light, bright and warming, gold is an important Christmas colour. Not only does it bring just enough shimmer and sparkle to the season to make it magical; it has historical significance too.
 
Gold was one of the precious gifts brought by the Three Kings, and having gold elements throughout your decorations gives a nod toward both the tradition and the magic of Christmas.
 
You can incorporate gold with paint or glitter and homemade ornaments, or you can ensure your entire home is bathed in the soft golden glow of organic candles. Pop tea lights in jars or hang biodegradable hanging lanterns outside, instead of stringing up lots of energy-guzzling fairy lights. Click here to view our extensive range of organic candles and tableware.
 
Green:
Green is the colour that has been associated with this time of year the longest. In some shape or form, evergreen plants have been used to decorate winter festivals for centuries.
 
Some winter foliage, like ivy and mistletoe, has reached iconic Christmas status, but the best-known Christmas green is the Christmas tree. Steeped in history, tradition and lots of pretty decorations, the Christmas tree is a true festive symbol. It's not the only way to be green at Christmas though.
 
Being green this Christmas is simple, fun and rewarding. As well as being mindful of waste and recycling, you can use eco-friendly trimmings, biodegradable disposable party plates and other planet-friendly party ware. It really couldn't be easier to trade a traditional white Christmas for a green one.
 
There are so many ways to combine the heart-warming colours and traditions of Christmas, with the responsible and environmentally conscious ways of the 21st century; you just need to think a little more outside of the box.
 
Of course, here at Little Cherry, we take pride in the fact that our products are charming and eco-friendly; not just at Christmas, but all year round too.
So paint the town red, glitter in gold and go green this Christmas with Little Cherry. 
---