Eat. Drink. Be Married.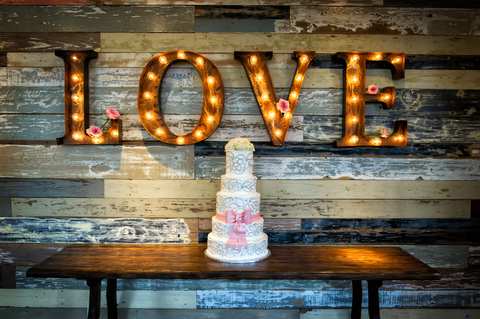 Happy couples tend to pay close attention to the finer details, such as the exact shades used in their colour palette and the precise makeup of their floral arrangements, not to mention the all-important, political minefield that is the table plan.
 
When it comes to more practical aspects though, particularly with regards to the reception, dreaming up big ideas tends to eclipse the logistical side of things. Of course, this isn't necessarily a bad thing, and the soon-to-be newlyweds aren't really to blame; they are entitled to be excited and distracted with all the good things coming their way.
 
That said, if you are throwing a post-ceremony celebration for all your friends and family, you need to lay solid foundations before you go wild with the décor and the finishing touches.
 
Regardless of whether you are having a buffet or a more formal sit down meal at your reception, you will need to make sure you have the basics covered.
 
Of course, the catering itself is something you are likely to have thought about way in advance, but what about the essential tools.
 
Disposable party plates, cutlery, and table decorations all play equally important roles at a wedding reception, so make sure you take these factors into consideration. Decide what kind of tableware will best suit your theme, and then make a list of the different items you need; soup bowls, side plates, main plates, serving platters, etc.
 
Once you have decided what you need, and what style you want it in, you can buy in bulk. If you are looking for a cost-effective, eco-friendly and aesthetically pleasing spread, Little Cherry can help. We have a wonderful selection of attractive, eco-friendly party ware, with many options in terms of styles and materials. As well as being available to buy in bulk, we also offer sample packs, to help you decide if a particular range is for you.
 
Below, we have listed the three main things you need to organise for your wedding reception (after the venue and food, of course).
 
So read on to see how littlecherry.co.uk can help you eat, drink and get married!
 
Tableware and Cutlery
 
We have an extensive range of disposable tableware and wooden cutlery, made from sustainable and recyclable natural materials. If you want a classic white set of tableware, we have a superb sugarcane collection.
Alternatively, we have a wide range of more natural-looking palm leaf and bamboo tableware. As for cutlery, in addition to our wooden cutlery, we also have skewers, picks and sporks.
 
Glasses, Cups and Straws
 
As well as compostable cups for hot drinks, we also have a range of different compostable party cups that are transparent and sturdy enough to be used as glasses. Available in different sizes, we have a cup for everything; pints of beer, glasses of soft drink, and anything in between. To dress up those fancy drinks, we even have an impressive range of different vintage paper straws, with a number of designs.
 
All the Trimmings
 
Whilst tableware and cutlery is important, decorating your tables is another priority. You don't have to go overboard, and you can keep things clean and green with some of our charming wedding decorations. Candle bags, tea light holders, a bunting trim, or a floating candle and floral display in one of our bamboo dishes; you can keep things clean and green with some of our charming wedding decorations. Visit our product pages to discover wooden cutlery and bamboo plates today!
 
Now, these three considerations are just a part of the bigger picture, and whilst you will already have a lot on your plate (excuse the pun!), once you get these basics sorted out and ticked off, you will have more time to spend on the fun bits and the finishing touches.
 
So browse our collections today and order your sample packs direct from us. Alternatively, you can place an order right away. Just get in touch with Little Cherry today.
---