Summer Slumber Party Life Hacks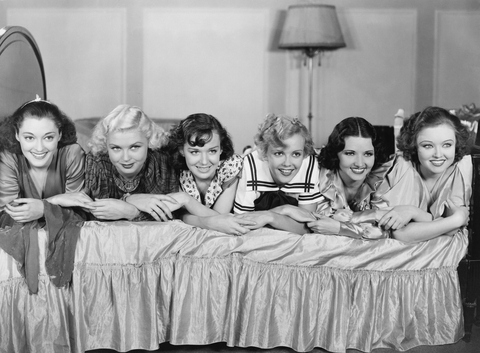 Of course, a sleepover is never actually about sleeping. There has to be an impressive selection of snacks, gossip, games and entertainment, so much so that those in attendance will be talking about the event for weeks to come. A sleepover is all about the experience.
 
And if you're struggling with how to create that all-important, memorable experience, read on. Below, we have listed a few of the basic building blocks for a successful sleepover, for both younger and older children.
 
Eats
 
For Tots: A tuck-me-in treat…Our vintage milk bottles, filled with milk (or milkshake) and a vintage paper straw for effect will go down a treat as a pre-bedtime snack. For even bigger smiles, hand out chocolate chip cookies too.
 
For Teens: A pizza party…There's nothing like the prospect of hot, cheesy pizzas to put a smile on teenage faces. Opt for store bought or DIY options that you can incorporate into the night's activities. You don't have to worry about washing up either, thanks to our new palm leaf pizza plates.
 
Entertainment
 
For Tots: Active games…It is best to keep little ones entertained with something that will also wear them out. Hide and Seek, Musical Statues and Pin the Tail on the Donkey are all popular classics. And if you want something a little more mentally stimulating, try Hangman, Pictionary or Charades.
 
For Teens: Movies…Teens are best left to entertain themselves at sleepovers, whether that's with school gossip or inside jokes that parents will never, ever get. As such, movies are an easy way to keep them occupied. They can get engrossed in a film of their choice, or it can provide background noise as they chat and chuckle amongst themselves.
 
Environment
 
For Tots: A fort…Young children love to create their own worlds to explore and enjoy, so why not help them on their way by creating the ultimate sleepover fort? Old sheets, cushions, boxes and furniture can provide the structure's skeleton, whilst cotton bunting, comfy cushions and blankets will make it cosy. If you can, use LED fairy lights or similar to light up the inside of the fort and give the kids somewhere to call their own for the night.
 
For Teens: A sleepover pit…Teens like to be comfy. That means you need to create an environment that allows them to stretch, sprawl, sleep and chill, as they like. They don't need you to go to the lengths of a fort though; a pit will do. By pit, we mean finding every spare soft and spongy item in the house (cushions, pillows, duvets, blankets, sleeping bags, rugs, etc.) and piling it in the room. Then let them find their own comfy spots as the night goes on.
 
Now, these life hacks are just our suggestion. The set-up, snacks and various other elements of your youngster's sleepover will depend on their specific needs and tastes, as well as any space/time/budget constraints.
 
You can rest assured though that with the building blocks in place, the kids will largely keep themselves entertained, which means an easy night for you between filling up snacks and checking to see if they've destroyed the house with extreme pillow fights and intense games of Blind man's Bluff!
---