Little Cherry Loves…An Orchard Inspired Wedding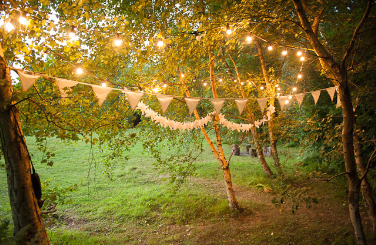 However, one fruit that often ends up overlooked until autumn, but works wonderfully for everything from summer menus to summer weddings, is the apple.
 
Britain's favourite fruit may not be the obvious star of a summer ceremony, but we think that an orchard inspired wedding is the ideal way to keep it simple, chic, and charming – especially if your wedding is outdoors!
 
So if you fancy the idea of an apple motif for your own nuptials and you need a little inspiration, see our tips and suggestions, below.
 
Tables fit for William Tell…
 
The Swiss marksman was famous for his arrow-through-the-apple stunt, and you'll want your wedding tables to be fit for such a legend.
 
Start with the table names, where you can have fun with all your favourite varieties. Your guests can sit at Braeburn, Gala, Pink Lady or McIntosh; and whatever apples you choose to name your tables after can make an appearance in their respective centrepieces.
 
You can use apples for the place settings too (see here for inspiration). Just tie leaf-shaped name cards to the stalks of nice, fresh apples, and pop one on each place. Guests will not only have a quirky and cute name tag, but a tasty snack whilst they are waiting for the meal.
 
Bamboo tableware will look charming against the otherwise all-natural backdrop, and our Bambu lacquerware bowl, in the kiwi finish, looks just like half a juicy apple; ideal for holding apple pyramids or floral displays. And if you want a slightly more subtle option, our bamboo red top twist skewers look like perfectly-coiled apple peel, so you can pop them in canapés, cupcakes, and just about anything else.
 
Golden Delicious bites…
 
Apples can play a big part in the menu whether you serve apple sauce with pulled pork for a main or caramel apples and these fancy individual apple pies for dessert.
 
Your drinks can do your orchard theme proud too, with perfectly appropriately (and incredibly delicious) tipples, such as the Green Apple Sparkler, Soft Apple Cider Soda and Hot Buttered Apple Cider, to take the chill off. You can even serve a refreshing Apple Mojito as your guests arrive at the reception.
 
How about apple-themed edible party favours? Cute jars of homemade applesauce, or vintage milk bottles of homemade apple smoothie or juice are perfect.
Apple blossom accessories…

 
First and foremost, think about your flowers. There are so many pretty options out there, and many come in interesting hues that work well with summer timing and apple motifs alike. For example, peonies, roses, baby's breath, cabbage roses, Ranunculus, carnations and tulips are all good choices, but Apple blossom is by far a favourite.
 
Alternatively, you could combine the apple and the flower with these clever carved versions; click here for the carving instructions, and click here to see what you can recreate if you're feeling particularly brave.
 
Hollowed-out apples are ideal for tea lights, so you can use them as pretty candles on palm leaf saucers. These apple candles also float, so you can have tubs of bobbing apple candles. This is a sweet way to light up the night, and you might even find it pleasantly fragrant too.
 
As for other decorations, lime green and white paper pom poms like these will be fresh and bright, like giant ready-to-eat Granny Smiths. Or, these pom poms will look more like crisp red and pink apples, as well as incorporate bouquet-friendly hues. And for a fun apple inspired trimming? Red and green bunting!
 
These ideas are just something to get you started. How you go about your apple-y ever after will be your choice, but don't be afraid to be creative, and don't underestimate the impact a simple, rustic, apple-pie inspired wedding can have.
---