How To Host A Children's Tea Party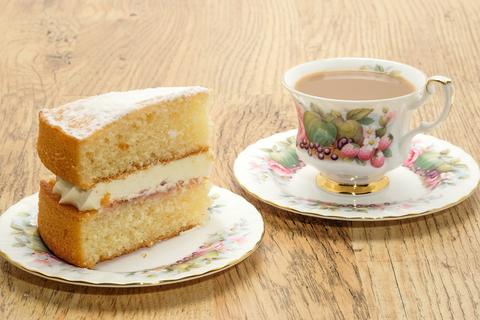 Oh yes. Big kids, little kids and 50+ kids all love a tea party but creating that perfect party atmosphere can be a challenge. You can keep things clean, green and easy with things like our disposable party plates and eco-friendly party supplies, but how do you create that all-important tea party vibe?
 
You need finger sandwiches, sweet treats and all the right finishing touches. That is why we have compiled the below tips for hosting a children's tea party. From the charming decorations to the delicious perks, a tea party is an all-time favourite for kids (and adults) of all ages. So read on for some top tips on tea party planning.
 
Craft a cosy tent
 
Being one of Britain's most refined pastimes; a tea party is usually conducted at the table. This table could be in the dining room, in a bright and breezy orangery or even al fresco in a pretty cottage garden. When it is a children's tea party though, you need to come up with something extra special, and a cosy homemade tent is just the ticket. Grab an old sheet and string it up to resemble a traditional gazebo or big top shape. If indoors, you can attach it to the ceiling or walls, and if you are outdoors then you can use fence panels, trees and washing lines as anchors. A white bed sheet will go with everything, and if you want, you can get the children to decorate it before it goes up; think pom poms, prints and whatever else they fancy.
 
Bung up some bunting
 
Regardless of whether you manage to fashion a tent or not, bunting is a very British way of celebrating. Street parties, garden parties and tea parties alike all look and feel merrier with a bit of bunting. You can stick with plain white or opt for bright colours, fun patterns and mismatched themes. There is no need to overdo the bunting; hang it like a border or frame to the room. If you are outside then perhaps line the fence with it, or pop some around the edge of the table, like a pelmet. It is a simple enough decoration, but little ones will get excited when they see it, and you will find it is very effective when it comes to getting everyone in "party mode". Far from being
old-fashioned, bunting is making a comeback!
 
Make teacup cakes
 
Cake and tea; these are the two most important ingredients for any tea party. Now, consider combining them into one delicious idea. Of course, we don't mean dunk your Victoria Sponge in a cuppa, but rather make the sponge in the cup. The devil is in the details with tea parties, especially with clever little munchkins who notice everything. Everything from the decorations to the party bag fillers needs to be true to the theme. That is why you need to pay attention to your presentation. If you are handing out milk and cookies, use an old-fashioned glass bottle, stick in a vintage paper straw and pop the cookies onto the straw, like a skewer. If you are having cake – be it with tea, lemonade, juice or milk – put the mixture in an actual teacup, and everyone will be able to enjoy a real life teacup cake at the party. See more on how to do it here.
 
Of course, these three ideas are just a few of many out there. You can gather inspiration from various blogs and Pinterest boards, and your first port of call should always be your youngster – what do they want at their tea party?
 
Just remember, you can keep any party both pocket and planet-friendly with littlecherry.co.uk. So take a look around our site or get in touch for help on throwing the perfect tea party for your little Lord or Lady.
---