Eco-Friendly Christmas Tree Decorations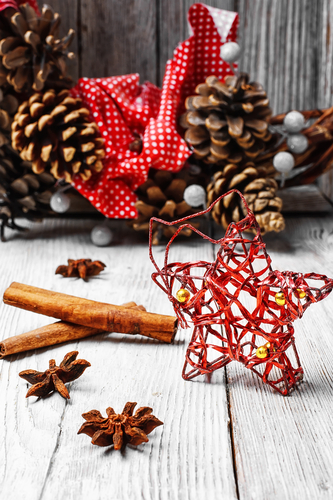 Christmas is just around the corner, and while you may have been super organised when it comes to getting ethically-sourced gifts wrapped in recycled wrapping paper, or planning an all-organic Christmas dinner with a leftovers buffet served on eco-friendly disposable tableware, your festive duties aren't done just yet.
You probably haven't given too much thought to your decorations yet, and this is perfectly understandable considering the tree goes up long after you need to have everything else sorted. However, if you want to give your home that real festive feel, you need to create a cosy Christmas vibe!
This sounds easy enough, but for the eco-friendly and planet-conscious among us, there is much more to it than draping some fairy lights and scattering tinsel and baubles everywhere. A truly green Christmas starts with a picture-perfect tree, hand-decorated by the whole family using unique and eco-friendly trimmings.
If this is your first Christmas going green on green, you might be struggling for ideas. So read on for some decoration inspiration to make this season bright and beautiful!
Reusable Lace, Ribbon and Bows
If you enjoy crafting or, like many of us, have random rolls of material, lace and ribbon lying around in "the drawer" you have the makings of a stunning Christmas tree.
You can create purpose-made bows to tie to some of the branches and make the tree look full but tasteful, or you can drape ribbon in the same way you would tinsel or beads. If you have different coloured ribbons or a mix of lace and ribbon, try alternating each layer. Depending on how ornate the ribbon/lace is you might find your tree doesn't need much more in the way of decoration.
Recycled Paper Chains
These old classics will have made an appearance in most of our childhoods. On top of being fun to make for kids (and even therapeutic for you), they look great and beef out the tree somewhat.
Instead of buying paper, try to recycle what you already have. You can make the strips for each link from newspapers, colourful magazines, old wrapping paper and much more. For a really personal touch, you can get your children to create drawings especially to cut into strips and make a family themed paper chain. Drape them around the tree, every few layers.
Popcorn and Cranberry Tinsel
Another firm favourite when it comes to traditional (and eco-friendly) tree decorations is the popcorn and cranberry tinsel garland. Alternating stale popcorn and whole cranberries threaded on a string – it is as simple as that. The best bit? Once Christmas is over, you can pull out the string and pop the popcorn and berries on the compost heap or bird table. The same is true for orange and bay leaf garlands, which look great, if not a little more subtle and polished than the popcorn alternative.   
Handmade Homemade Decorations 
---