Bite-Sized Britain: The Tiny Taster Revolution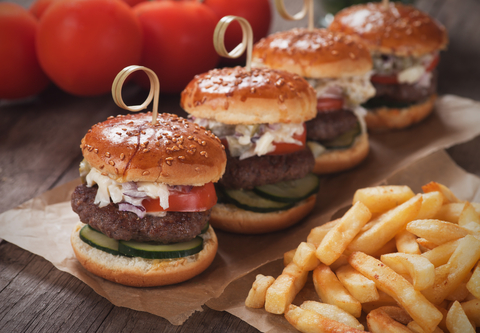 One such trend sweeping the nation is the bite-sized feast. Tiny tasters based on traditional full-sized dishes make for a great party platter. Not only do you get all the flavour of the real thing without going overboard on portions and wasting food, but there is also something inherently fun about miniature versions of our favourite meals.
 
Of course, when it comes to serving up shrunken bites, presentation is everything…and that's where Little Cherry comes in!
 
Our disposable party plates are superb for meals of every shape and size, from birthday buffets to world cuisine. However, when it comes to dressing up dishes in an ethically stylish way, our eco-friendly range of tableware really does shine.
 
To give you a better idea of what we mean, or even to offer some inspiration for your own party, we have listed five snacks that are ideal for the bite-sized Britain trend – all with a Little Cherry twist. Read on for more.
 
Dinky Desserts
No matter how good your mains are, you will want to wash them down with a tasty (albeit tiny) dessert. A nice dollop of rich chocolate mousse in one of our wooden cups will hit the spot right; just garnish with a strawberry and top with chocolate curls and crushed nuts.
 
Skewered Sliders
Who doesn't love sliders? Tiny burgers in tiny buns, providing just the right amount flavour. Of course, even tiny burgers can get messy when things start slipping around and falling out; that's why one of our bamboo skewers per slider is ideal. They work a treat, holding all of the different layers together neatly, ready for eating.
 
Classic Seaside Cones
Fish and chips are a British classic if ever there was one. Usually a wonderfully greasy mess wrapped in newspaper or similar, it sadly isn't always the most practical option. Shrink it down to fit into one of our charming disposable wooden cones though, and you have the most British of bite-sized treats. You can display the cones as artistically as you like; just make sure you have a few chunky chips and battered cod bites in there.
 
Fun-Size Fruit Kebabs
We think healthy treats are just as important – and just as fun – as anything else on a bite-sized buffet table. That's why we are big fans of miniature fruit kebabs. Our wooden skewers offer the ideal way to enjoy fun-sized fruity bites, with flair. Opt for easy to eat fruits like berries, melon, banana and grapes.
 
Shrunken Sushi Bites
Sushi isn't considered a staple food at buffets and events, but it is an increasingly popular food choice, with fancy bars popping up all over in recent years. Putting a tiny twist on this Japanese classic can be a great way to mix things up, especially if you give your guests our miniature wooden tongs to serve themselves with! Fish never was so fun!
 
Now, these five suggestions are just a small selection of what miniature bites are available for parties and occasions of every shape and size. There are so many foodie blogs and Pinterest boards out there for inspiration, and we have more than enough eco-friendly additions to jazz them up in terms of presentation.
 
So start compiling a miniature-friendly menu and browse our site to see what we have to help pull it all together.
---