A Woodland Wedding, An Elven Romance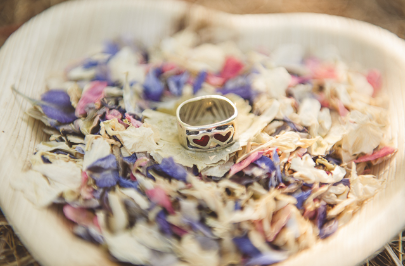 The canopy of trees makes for a pretty good ceiling while the woodland floor, covered in a wildflower carpet, is a wonderful aisle to walk down. But how do you add that extra-special touch to turn a romantic woodland setting into a wedding venue fit for an elven romance?
 
Well, here are a few ideas to get you started:
 
The Little Touches
 
The wedding rings are often carried in the Best Man's pocket or on a pretty pillow, which the ring bearer or flower girl is in charge of looking after. For a woodland wedding though, why not incorporate the natural materials all around.
 
Use coconut shells or the heart-shaped bowls from our palm leaf plate collection, filled with dried or fresh petals. The rings can be popped on top, leaving you with a pretty and practical way to keep them safe throughout the ceremony.
 
The Sun Goes Down, The Show Goes On
 
Whether you're holding your reception in the open or you're having an evening ceremony amongst the trees; fairy lights or candlelight are stunning ways to illuminate the woods and add a touch of magical romance to the proceedings.
 
You can use fairy LED lights (which are more eco-friendly than the iridescent variety), strung up between temporary structures and tree limbs, or you can pop organic tea lights in glass jars and place them safely in strategic locations. We suggest our Victorian glass hanging tea light holders, because the filigree effect metal work adds an elf-appropriate medieval element. To see how effective this kind of soft lighting can be for a woodland wedding,  see here.
 
String It All Up
 
Now, with a natural backdrop as stunning as ancient woodland, there isn't really that much you need to do to doll it up. Whatever additional decorating you do will, of course, depend very much on your personal tastes and how you want to tie the rustic venue to your own choice of fairy tale colours and so on.
 
You could string flowers along strands of our natural ribbon, and hang them from trees or temporary structures, to make a sort of floral canopy. Alternatively, for an evening affair, you could paint our Kraft star gift tags (or leave them natural) and string them up instead. That way, set against fairy lights or tea lights, it will look like a starry sky is tumbling down, especially for your big day.
 
These top tips are just a few things you can do to turn a pretty woodland wedding into an elven romance fit for J.R.R Tolkein himself. Of course, there's plenty of inspiration out there, and you will have lots of fun using your own imagination to create a magical, mystical world of your own. Play with the differences between rustic woodland elves and more fantasy-epic inspired elves or create your own hybrid of the different kinds.
 
Whatever you do, make sure your big day is as magical as you've always dreamt of, and spare a thought for the environment by opting for natural and eco-friendly decorations.
---